Workshop Wall Dispenser for Large Paper Rolls
A universal metal wall dispenser which will house the majority of large paper wiping rolls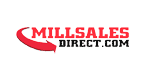 Wall bracket for large wiper rolls.
This bracket is large enough to take rolls with a maximum width of 40cm. Including our own Classic XXXL monster rolls, and our Best Value Monster Rolls. Other rolls that fit these dispensers are the Katrin Classic, Wypall L30, Wypall L40,Tork 420, and Tork 430.
The dispensers are blue in colour and have a cutter edge to give control over useage.
You may also be interested in