6 rolls per case. 140 metres per roll. 2 Ply green paper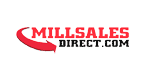 The Original "Udder" wipe is now available from Mill Sales Direct.
This super strong, 2 ply green disposable paper Dairy Wipe, is also known as the udder wipe. It offers the most effective method for maintaining pre-milking hygiene, as the individual wipes can aid in first-class teat cleaning standards.
The Dairy Wipe (Udder wipe) is ideal for aiding in the removal of mud and dirt from the teats prior to the cluster being fitted. The agricultural wipe has 140 metre of paper per roll, with an optional stripping core allowing the product to be used in a centrefeed dispenser if required.
In addition to the use in the parlour the Dairy Wipe, with it's high wet strength, can be used in other areas of the farm where a strong absorbent paper is required.
This is our best selling paper roll for Dairy Farmers, as it offers great strength and absorbancy.
There are 6 rolls per case, and 140 metres of paper per roll.
You may also be interested in